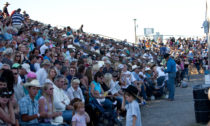 Since 1946, our small town of Three Forks has hosted an annual rodeo. The tradition, now more than seventy years old, has become a significant part of our town's identity and continues to grow in popularity. Aside from the crowd-pleasing NRA Rodeo held each third weekend in July, the arena hosts various events throughout the summer and shoulder seasons. Nearly every weekend is filled with events that bring people into town, positively impacting our local economy.
The arena itself was built with community and volunteer support and seating for spectators was donated 40 years ago when Montana State University upgraded gymnasium bleachers inside the fieldhouse. Those indoor seats long outlived their prime, the board of directors set aside funds in a goal to replace them.
In January, the Three Forks City Council granted the Three Forks Rodeo Arena Board of Directors approval to purchase 2289 ADA accessible grandstand seats. The project was funded by cash reserves, grants, loan proceeds and private fundraising. The project greatly improved guest safety while allowing easier access for disabled visitors to the arena. Our private fundraising goal was $110,000 by July 1st, 2020. As of April 28th, $40,500 has been raised, thanks in large part to Tom Kanta and the Estate of Richard Townsend.
Your tax deductible contribution towards this project will have a significant impact throughout the community. Please consider a monetary donation in whatever amount is comfortable to you. Thank you in advance for considering this important community effort.
Registered before? Log in to use your saved details.

If you registered an account, please enter your details below to login. If this is your first time, proceed to the donation form.